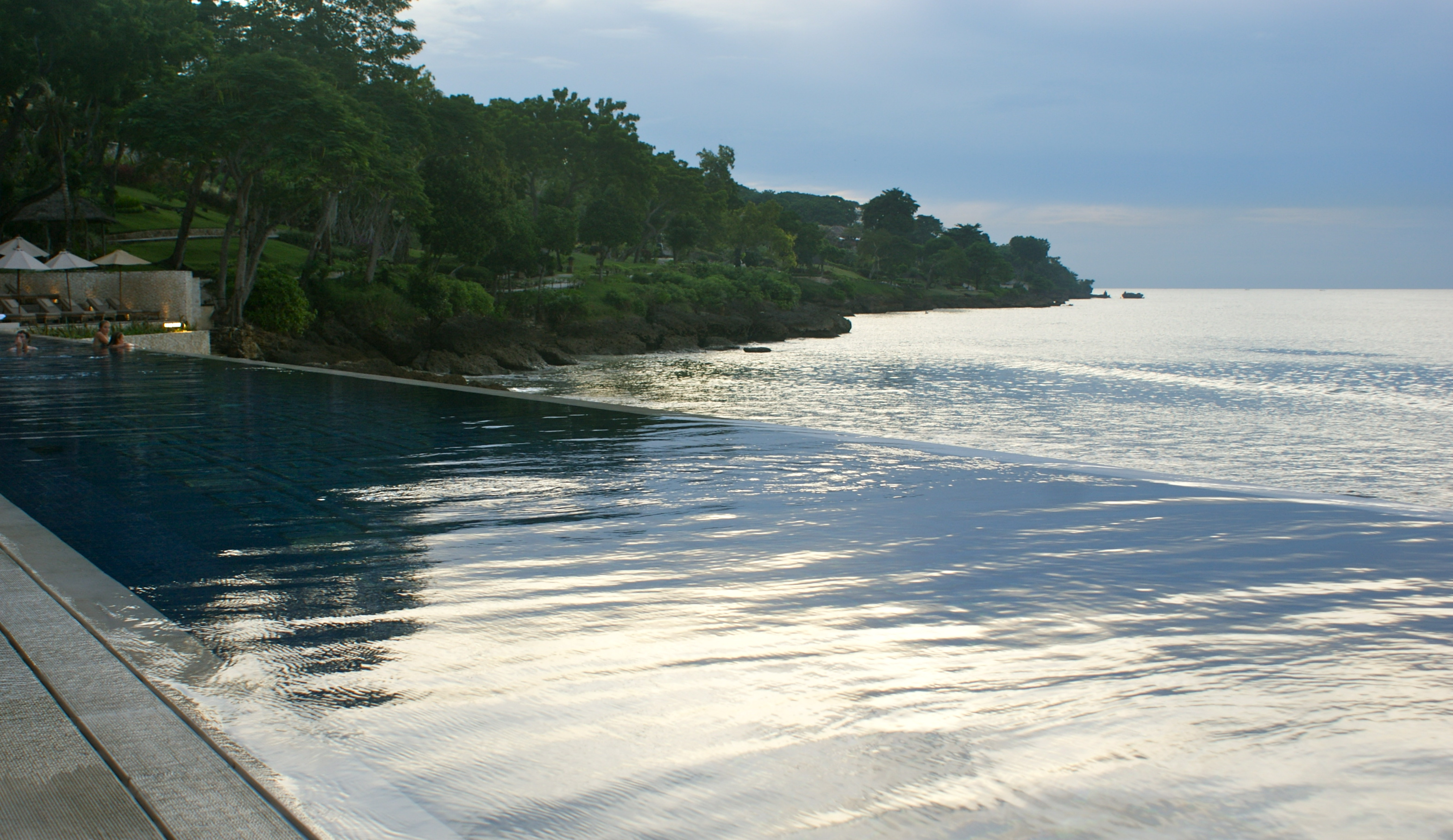 Description
Located in the south-western part of Bukit Peninsula in the south of Bali perhaps Jimbaran is one of the best places for fishing and gastronomic tourism. It used to be a small fishing village in the south of the island and now Jimbaran is the location of some of the best chain 5-star hotels and middle-class hotels, a variety of villas and houses. Jimbaran is a great resort area for families, as there are long sandy beaches that are suitable for swimming. The area is known for its famous fish market and also attracts tourists by its proximity to the airport.
For whom
If you come to Bali for delicious seafood with a variety of lobsters, mussels, shrimps, delicious fish then let your appetite take the situation: you deserve this large plate of seafood in a local restaurant enjoying the sunset and the evening ocean!

Located in the bay his area is perfect for families with children as the sea on Jimbaran beach quite calm. Jimbaran will also be loved by those who come to Bali for beautiful pictures on the beach with yellow sand and rocks. Nothing pleases the eye more than a fresh look, a visible decrease in fatigue, sparkling eyes and a stunning open smile after a vacation.
Tourists come here especially to spend time in fish markets searching for the freshest fish and seafood because it is exactly here fishermen give their prayers for a successful catch every early morning. On the local market you can not only buy fresh seafood but also ask for grilling take away service just for 20,000 IDR (100 rubles) per kilo of any fish or seafood.
Where to stay


Beaches
Staying in this region you will definitely want to get to know the ocean. There are several beaches and every one has its own character: you may watch powerful waves beating the rocks which perhaps seem to keep scaring you with their restlessness or you may see it as a quiet and silent friend and you may fall asleep listening to the wave sound and wake up in paradise. And the ocean will not even mind if you want to become its friends. On the beach you can go surfing, however, there are not always suitable waves for catching waves so this is not a very popular place even for beginners.

A nice Tegalwangi beach is a hidden gem for wedding photographers, though it is more likely for beautiful shots than for swimming. There is a pretty good long sandy beach with a lot of seafood and fish restaurants on Jimbaran Beach. For the visitor comfort, each restaurant has a shower and you can swim, eat the freshest fish and enjoy the water again. The day is endless for this.
There are sometimes no sunbeds and comfortable umbrellas to hide from the hot sun. Be ready to take beach accessories with you or go sunbathing closer to the hotels it is also a great idea to visit the Jimbaran Beach Club or Sundara beach-club where you can order a cold drink or fresh coconut and feel free to sunbathe.
What to do
Visiting Jimbaran everyone wants to see the Garuda Wisnu Kencana Cultural Park and take a selfie next to the largest statue of Vishnu.
Do not forget to try delicious food enjoying seafood dishes in local restaurants where it has become a tradition to have beachfront dining with white tablecloths and candles and watch the sunset. It is better to book tables on the sand by phone in advance.

When to go
Jimbaran is recommended for visiting all year round as the air temperature is always about 29 -31 degrees and the waters are quite warm 26 - 28 degrees. Always remember about the rainy season in Bali which is is usually from November to February when heavy rains and thunderstorms can disturb your peace and tranquility in the evening.
Entertainment & leisure
If you want to get a maximum portion of pleasure in one day you should visit Oneeighty, one of the most unusual beach clubs located at The Edge Hotel. Stunning views, high-level service and a fantastic pool with a transparent bottom that hangs over a cliff - you can swim admiring the rock view and enjoying the sound of the waves crashing. And they serve delicious gourmet cuisine with both Balinese and European dishes! It is better to book a cozy place on a soft deck chair via the Internet in advance. The entrance to the club is provided according to the deposit system when you can spend money on food and drinks in the restaurant by the pool. Beach towels and water are also provided. The restaurant has a security system for guests that is why only adults with no children are allowed to relax in a VIP zone with huge sofas. The cost of VIP sofas is slightly higher than usual - 550,000 IDR (2750 rubles) versus 350,000 IDR (1750 rubles).

If you like spa it can be hard to find time to relax and indulge in a little self-care that's why do not miss a chance to visit Ayana resort protected by Jimbaran's dramatic limestone cliffs, enjoy the best of Europe's cutting-edge spa scene 30 meters above the Indian Ocean in Jimbaran Region. The hotel has the right to be proud of its Spa Thalassotherapy having the area of 22 thousand square meters where there is one of the world's largest Aquatonic Seawater Therapy Pool pools. The procedure is a powerful hydro-massage with seawater for your chosen time. A 2-hour visit will cost you 600,000 IDR (3,000 rubles), the entire spa area, bathrobes, slippers, a variety of aroma oils and creams, body and face care products will be at your service.
Even if you don't stay at this hotel you can always use the services of Aquatonic saying this magic word as a password when entering the territory of a huge hotel where everyone moves by small shuttles. In addition, in this spa you can enjoy unique wine therapeutic procedures that help to soften visible signs of aging and restore inner vitality. A two-hour spa treatment Mellow Wine Therapy for a couple includes body massage, body wraps and gentle facial massage using cleansing grape oil, grape mask and grape extract it is an exclusive offer available for resort guests. Finish this glorious treatment with a truly magical procedure - a wine bath with rose petals that will make you finally submit to the enchanting power of wine. And all this is offered with amazing ocean views! You can also come to one of Ayana's beaches going downstairs or using a glass elevator.
If you are far from a relaxing holiday and love to spend your holidays actively there are surfing courses near the ocean although not so many as in Kuta but you can always take beach equipment to your taste here - a surfboard or a bodyboard. Life is an amazing phenomenon if you know how to manage it. Every day spent under the sun on the beach provides an opportunity to catch the wave of your life.
For cultural leisure lovers there is a cozy GWK park - Garuda Vishnu Kenchan Cultural Park in Jimbaran - which is located at the highest point of the Bukit Peninsula. It was founded in 1997 on the site of an old limestone quarry. The main attraction of the park is a huge statue of the god Vishnu which was built for 10 years and now it is the highest monument in Indonesia with a height of 121 meters which is almost 30 meters higher than the American statue of liberty. An entrance fee to the park is 100,000 IDR (500 rubles) that includes a visit to the Museum of Balinese art, a theatre where Balinese dance performances are regularly held. There are several squares with an amphitheater, art gallery, souvenir shops, lotus lake, a fountain, and a beautiful garden. The park hosts many festivals, concerts and other events.
Where to eat
Go to the ocean and fall in love with the waves, magical sunset, and the freshest seafood. If you know this feeling then you can start your holiday romance in one of the restaurants in the Jimbaran region. Some of the best dining experiences entail not only a feast to bite into, but also a feast for the eyes there are several fish restaurants that offer the freshest seafood. Different types of shrimp, mussels, crabs, scallops and other seafood live in the aquariums. In the neighboring one, you will find red and white snapper, shark, octopus and other kinds of fish that are laid out on the ice. All this seafood is served as tartars, sashimi or sent to the kitchen where they are grilled using coconut peels. Jimbaran's fish restaurants operate exclusively in the afternoon: they are open before sunset and work until late in the evening. The choice of such dining places is huge but you should definitely visit Menega or the Radja Seafood Cafe Jimbaran and book a table with candles on the sand with a gorgeous view of the ocean to enjoy seafood and the best sunset which is an integral part of the life of this region. Made Bagus Cafe Jimbaran and Nyoman Cafe also have good recommendations.
If you are looking for a place to have an evening cocktail at sunset then Rock Bar with beautiful terraces is a perfect luxury restaurant which is located directly in the rock where you can go down by Cable Car. t's no wonder amorousness rates skyrocket immediately. This unique restaurant is suitable for a romantic dating or any other special occasion to celebrate with a glass of champagne. The bar has a dress code so be sure to wear the most beautiful outfit and come here this place is filled to the brim with the romance of Bali island. It is a truly impressive restaurant with fantastic views and it has many different areas both for large companies and for a secluded getaway. When it gets dark and the sun sets in the ocean the sky is completely full of stars to watch and make a wish.
Jimbaran gallery