Rent a Villa in Bali
Until recently, villa rentals in Bali have been the prerogative of the "rich and famous". Not everyone has found it financially convenient to rent a villa in Bali. Today, you can forget about the standard tour operators' offers. Every vacationer has the opportunity to spend an unforgettable time in a luxurious Balinese villa. The main reason for these changes is the growing demand and supply. Renting a villa with a European level of service in Bali is often more profitable than paying for a hotel room.
Our managers have been working in the tourism market of the island for over 10 years. In the meantime, we have:
compiled an impressive real estate database;
collected the most advantageous offers in the market;
organized service according to European standards.
Our collection of villas consists of the best property rental offers in Bali. These are carefully selected and pre-inspected luxury villas located in different areas of the island, including Ubud, Seminyak, Nusa Dua, Canggu, and others. We will find a villa for every taste and with any range of services. If you wish your villa to be located in a popular district of the island – there will be no problems. If you prefer to stay in less touristy areas – there are unique villas in our catalogue that will let you experience all the delights of a secluded vacation in Bali. We are one of the few who can offer property rentals not only in Bali, but also on the islands of Gili and Lombok.
The Perfect Villa in Bali for the Perfect Vacation
When choosing a villa in Bali for your vacations, we take into account not only its location, but also its various features. If you are travelling with children, we will suggest a safe villa with a children's pool. If your dream is to spend most of your time on the beach, we will offer a villa within walking distance of the best beaches in Bali. If you are planning a honeymoon trip to Bali, we will suggest a picturesque villa with a breathtaking view over the ocean and a spot for a romantic photo shoot.
In our catalogue, there are villas in Bali with an ocean or rice field view, a swimming pool, a sauna, office area, a crib or a playroom, a gym, space for yoga, etc.
We will suggest a suitable villa in Bali, which seems to have been built especially for you. These are the comments we hear from our guests. Everything is planned, checked, provided and ready for your arrival. Not a single hotel in Bali offers such a wide variety of options combined with high class service.
Guest's reviews
Emre 05.01.2016
We were very comfortable with the privacy of the villa
We stayed for a week in Karma Cantik, and overall we were extremely satisfied with the service we got from the ilovevilla.com and the villa we stayed. The complex with its top-notch spa, restaurant, and beach club provided us a very convenient stay in Bali. The location of the complex was optimal for us to reach anywhere in a reasonably short time. Most importantly, we were very comfortable with the privacy of the villa we stayed, as we haven't encountered.
Read more
Hide
ONG SUN SUN 26.06.2016
Friendly and competent service that was always readily available
Aiko Villa is very pleasantly surprised by the high quality, spaciousness and cleanliness of our villa and the prompt, courteous, friendly and competent service that was always readily available. Our time there was very enjoyable and relaxed. We unreservedly recommend this accommodation to all travellers.
Read more
Hide
VIP Service and Support 24/7
By booking a villa in Bali with I Love Villa, you entrust your vacation not to a private agent, but to a team of professionals, who will take care of everything from planning your trip, and meeting you at the airport and arranging a comfortable stay at the villa to ordering a departure transfer to the airport. While on vacation, it is always important to have a person who can help, for example, find a pharmacy, a nightclub or a convenience store. Or deliver the necessary products directly to the villa.
We are always in touch with our guests and ready to help in solving any kind of situation. In the hands of our staff, you can experience a real carefree vacation. If you have any questions, just dial your manager and he or she will definitely answer them.
A Virtual Visit to the Villa Before Booking
We value the trust that our guests have in us and therefore we strive to meet their expectations as much as possible. That is why we provide you the opportunity to see your accommodation even before paying rent for the villa in Bali. You can inspect the entire territory and make sure it comes up to your expectations, add or make changes to your booking.
Additional Services
The opportunity to plan your vacation on your own, regardless of a hotel's schedule, makes the idea of renting a villa in Bali even more attractive. You don't have to think about anything, we will help you organize your vacation:
we will order
groceries for you

we will provide
a car for trips
around the island

we will provide
feedback to the
manager 24/7

we will find
suitable entertainment
in all areas of Bali

we will invite
a babysitter, a chef,
a photographer, or any
other staff you require
Each of these services has a single goal – to make your stay comfortable and carefree!
Having weighed all the advantages, you can come to the conclusion that renting a villa in Bali will not cost you an arm and a leg. Of course, you shouldn't look for a holiday villa on your own. There is a risk of running into an unscrupulous landlord. With us, everything is different:
we work
directly with
villa owners

we sign
a formal
contract with them;

we check
and prepare the villa;

we control the process
of meeting our guests at
the airport and their arrival at the villa

we receive
feedback from
every client.
Everything is transparent, convenient and safe. We let you know in advance how much it costs to rent a villa in Bali, what services will be included in the price and what can be added or ordered during your stay. Moreover, our regular guests will receive discounts and bonuses upon check-in.
We are waiting for you 24/7, ready for any wishes and suggestions! We will provide an unforgettable vacation for a whole family, a couple, or a group of friends. We will prepare the villa for our guests' arrival. If you have questions – just call or write at any time, and we will answer them all.
What are the Advantages of Renting a Villa in Bali?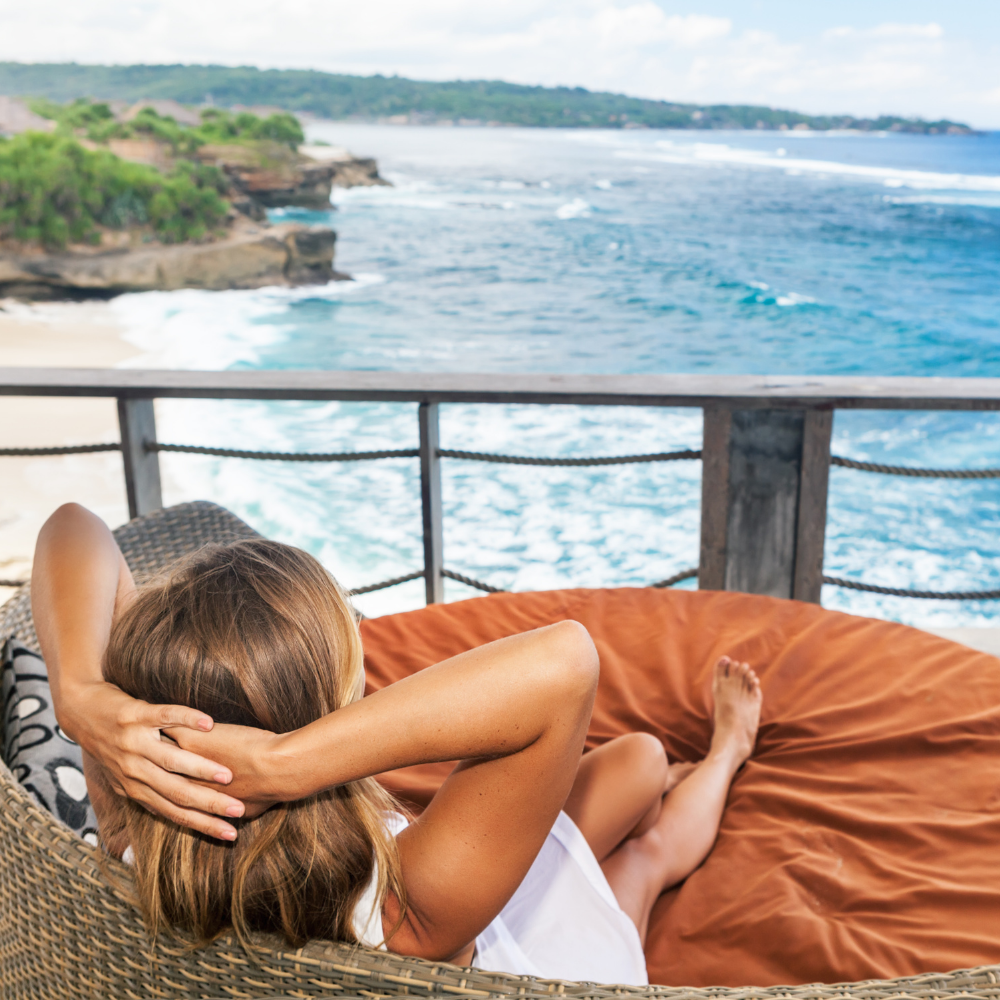 First class service
Staying in a villa, you get at least the same service package as in large five-star hotels – a meeting upon arrival, an airport transfer, cleaning. If you wish, you can make use of other services, just contact our concierge desk number.
Privacy
There are no crowds of vacationers in the villa, there is a stunning view from the windows, a terrace, a pool, or a beach nearby, and a huge living space at your disposal. Renting a villa in Bali is getting better value for money if you appreciate comfort while on vacation.
Uniqueness
A trip to Bali is an opportunity to plunge into the exotic atmosphere of the island, enjoy its gifts and beauty while admiring the first class service in the villa.