7 dishes you should try in Italy
The Italian experience is worth starting with traditional cuisine. For many people, Italian food is associated with pizza and spaghetti and you will be surprised by its variety and excellent taste. At the same time, the cuisine of the regions in Italy may differ: in each part of the country people are proud of their culinary traditions and even pass on secret recipes by inheritance. Well-known for culinary experts and travelers, rich Italian cuisine has become the hallmark of the country.
Pizza, pasta, ravioli ... Mmmm ... What dishes to try in Italy? How to yield to the gastronomic temptation, try traditional Italian cuisine, enjoy wines from famous sommeliers but at the same time return from vacation without a drop of regret and gaining excess weight? Let's find out seven most popular national dishes having a cup of aromatic coffee.
Renting a villa in Italy
 is becoming increasingly popular among tourists. You can come on vacation for a couple of weeks or live longer, tasting the real life of Italians. If you like cooking, then fill your fridge with the freshest products you can find: fresh fish, tomatoes, olives, herbs, artichokes, capers, eggplant, zucchini and giant lemons which are served as basis for incredibly tasty and healthy dishes especially in the south of Italy. We recommend the others to go to a restaurant nearby to have breakfast in the morning. Those who take care of their health will appreciate ricotta with fresh berries, juicy bruschetta with mozzarella and ripe tomatoes, avocado toast with salmon and poached egg, stracciatella with strawberries, and those who are ready to have fun starting in the morning can be offered a glass of prosecco in addition to a traditional cup of coffee.
The restaurants serve lunch in the open air on a sunny day so that you can enjoy not only Italian delicacies but also enjoy splendid landscapes. The southern regions are full of cafes where they pamper their guests with refined Mediterranean cuisine.
Do not be afraid to get bored in your villa. In the evenings, people regularly gather in local bars and restaurants to dine by candlelight with a beautiful view and even the smallest coastal towns gain life.
Italian wines
 and a Mediterranean menu are an occasion for having dinner in your own villa. You can invite an Italian chef to cook any national dish using the highest quality ingredients at your request: tuna, swordfish, caponata, carbonara spaghetti and cannoli.
1. Pasta
When traveling around Italy discover many gastronomic delight and be sure to try pasta: spaghetti with cheese, tomatoes, and basil, primavera pasta, carbonara spaghetti, pennoni with shrimps, crab and scallops, spaghetti with clams and bottarga, fettuccini with porcini mushrooms, asparagus, artichokes, and truffle. Traditional pasta recipes at all times do not lose their relevance. Look at the famous Italian actresses, they owe their figure to parents and pasta.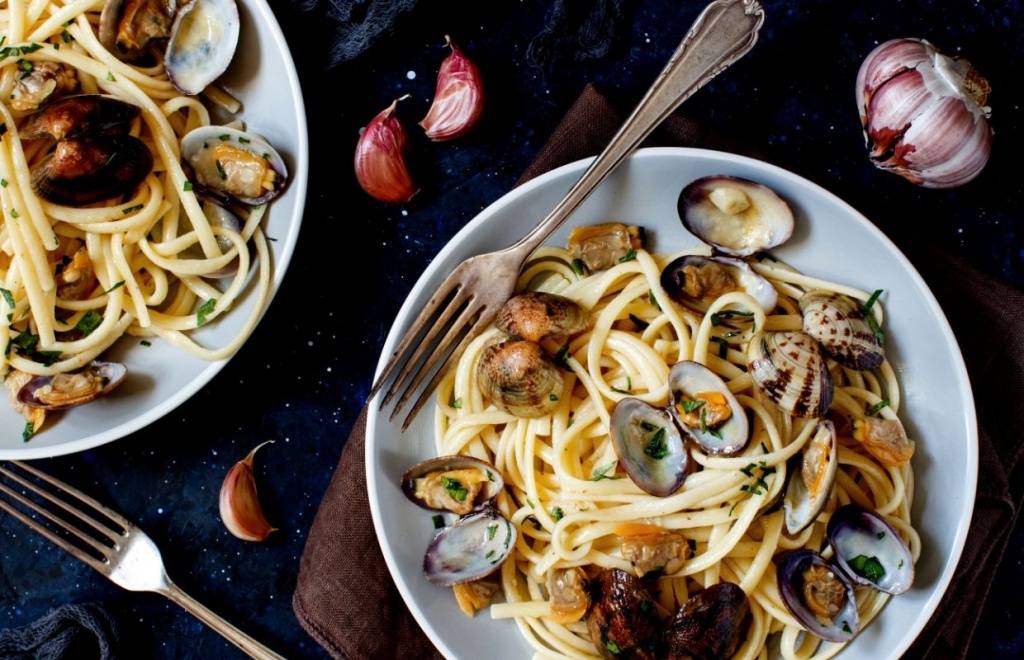 2. Pizza & focaccia
Several millions kinds of pizzas are eaten every day all around the world. And this is not surprising: after all this Italian dish is considered as a favorite one by more than half of the world's population. In Italy pizza is a weekend meal in the company of friends. Local pizzerias serve pizza which is cooked in a wood-burning oven, which makes the culinary life go around. Ovens are often installed directly in the halls so that you can observe the cooking process.
Famous Italian pizza is cooked according to all the rules: with a crispy thin base, various fillings, melted stretching cheese, high-quality olive oil, and selected tomatoes. Do not deny yourself of trying the traditional Italian pizza Margherita, pizza with prosciutto and pear with gorgonzola, with tomato sauce, capers, and anchovies, with seafood. The choice of fillings is endless! Pizza is cooked in the oven using a special shovel that is lifted and moved inside to make it crispy. It is often served to the guests this way.
Many tourists like to order focaccia for lunch or dinner, it's very thick oily yeast dough bread. Baked focaccia is usually cut and put a variety of fillings inside: tomatoes and basil, ham and mozzarella, tuna, pesto, and vegetables. When you come back home you will definitely want to have experiments in the kitchen yourself and surprise your friends.
3. Bruscetta
Bruschettas in Italy are no less popular than pasta or pizza. An undoubted plus is that you can cook a bruschetta in just some minutes. Take a slightly fried crispy baguette and put the delicious filling on it. Voila, your bruschetta is ready. However, making a filling is a whole art! Bruschetta with tomatoes, cheese, and herbs, with vegetable caponata, with duck tartare, tuna and herbs. The choice is yours!
4. Ravioli
If you wanted to try ravioli which recipe is rooted in Italian classics, then you should take a closer look at the menu. You need to know the professional subtleties to cook right ravioli. Perhaps you will not be shared all the secret ingredients and the nuances of cooking in a local restaurant but they will certainly allow you to enjoy the taste of this culinary masterpiece.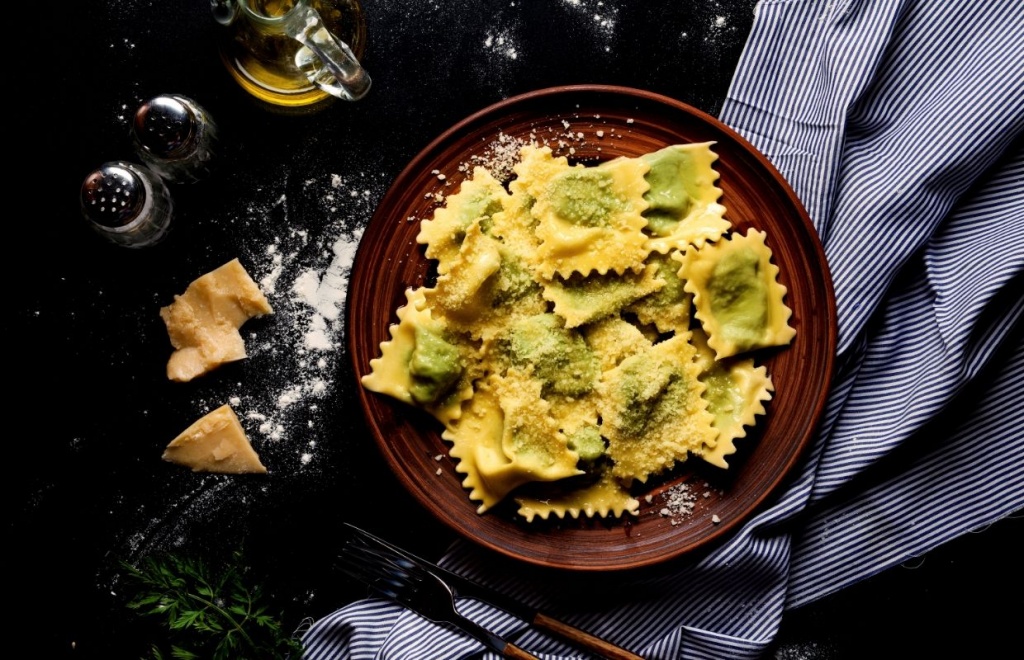 5. Risotto
Risotto has become not only a national dish and unspoken symbol of Italy but also a recognized gourmet dish. You may be surprised that there are more than 50 options for its preparation: from classic with mushrooms and parmesan to original with seafood, pumpkin and even berries.
6. Lasagna
A classic of the so-called delicious Italian food is a hearty lasagna made with meat ingredients, seafood or vegetables. According to statistics, only 10% of the Italian population is obese and does not deny "solid carbohydrates." Looking at the slim Italian women eating lasagna with a great appetite you start to believe in miracles.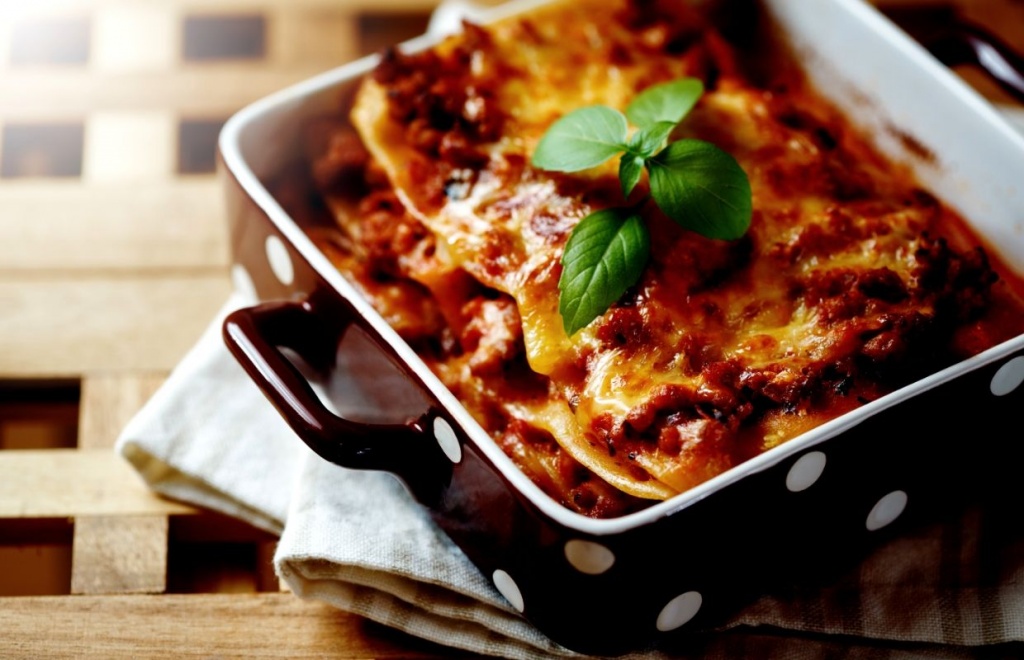 7. Desserts
Going to a restaurant for dinner, be sure to pay attention to the desserts. A panna cotta with cranberry jelly can be a great end to a meal and a sweet compliment. Macaron - a confectionery made from egg white, sugar and ground almonds - is ideal to share your feelings with your soulmate. A Caprese cake with vanilla sauce is perfect for a gala dinner with a glass of prosecco. Italian confectioners have a warning: tiramisu inflames passion in the most serious way because it contains coffee as one of its main ingredients. The night will surely be sleepless!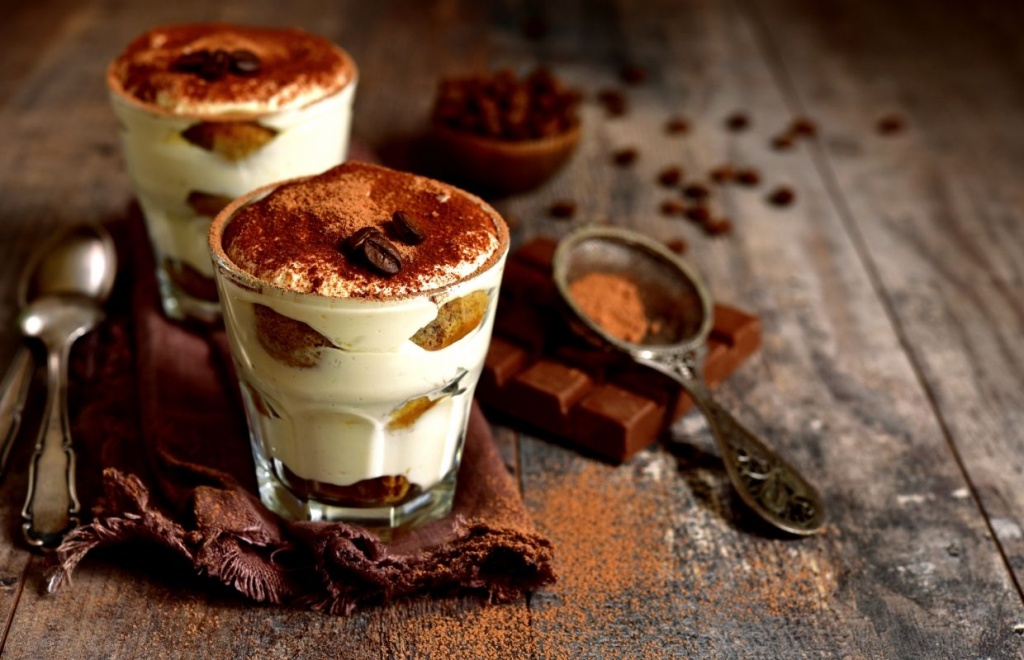 Gelato is what makes travel to Italy worth! Italian ice cream is simply divine! Collections of local gelatories include about 70 flavors of gelato many of them are presented only in a particular season: from pistachio, banana, salted caramel to various tropical fruit sorbets. All café visitors feel like carefree children and let happiness take the situation.