Vacations by lakes in Italy
Italy has been the main tourist destination for twenty years. Tourists come here from all over the world in search of their perfect vacation: there is excellent shopping, a large number of attractions, noisy fashion shows, football matches, as well as many places where you can have privacy, make a love confession or a marriage proposal.
Lakes of Italy have about 1,5 thousand water bodies and reservoirs, everyone can choose the rest to their taste: from the purest mountain lakes to shallow lagoon. Garda, Lago Maggiore, Como, Lago d'Iseo, Lago d'Orta, Lago di Lugano. Many of them are better to see if you take a car ride along the coast. Renting a villa in Italy for a long or short term is very popular here because everyone wants to live by the lake. You can travel, change regions and cities and then make a stop just for sitting on a sunbed to inhale a mix of clean air and floral aromas coming from the green gardens spreading along the shores. Surprisingly good holiday by the lake is near the Italian Alps where the beauty of nature resembles fabulous landscapes.
Garda
It is worth starting an acquaintance with Italy from the most beautiful and largest Lake Garda, which is enclosed between the regions of Lombardy, Veneto and Trentino Alto Adige like a precious pearl in a shell. Located between Milan and Venice Lake Garda has magnificent mansions full of in flowers, bright houses with red roofs, here you can meet cozy old churches and fortresses and a charming promenade with colored catamarans invites you to join.
Lake Garda was admired by Goethe, Stendhal and Maria Callas. The greatest work of the eccentric poet, politician and adventurer Gabriele d'Annunzio was his own residence Vittoriale degli Italiani which rises like a giant citadel on the shores of Lake Garda. Its white walls are decorated with guns from the First World War and stone eagles are sitting on the garden fence. The Vittoriale complex includes a villa, an open-air theatre, squares and gardens dedicated to the maestro. Take a walk for fun!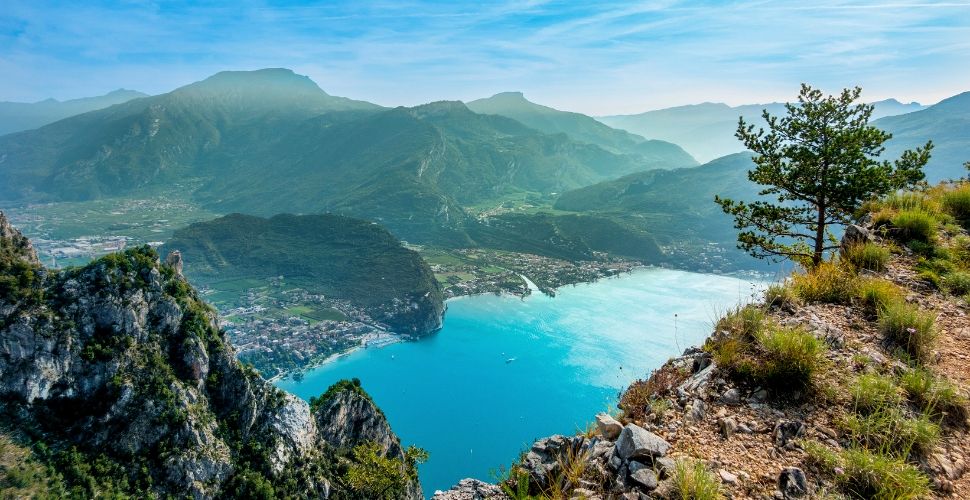 Any villa on Lake Garda looks welcoming due to its luxurious gardens with olive trees and vines. The real luxury for many people who are keen on traveling is a feeling of complete privacy, an ability to be completely immersed in the outside world. Renting cottages on Lake Garda has several advantages: a sense of unity with nature, panoramic views of the water and bright greenery around.
If you plan a vacation in Italy with children Lake Garda has everything to have a great time with your family - the largest children's amusement park in Italy - Gardaland, Seaworld Aquarium, Canevaworld Water Park, Movieland Amusement Park. There are also excellent facilities for windsurfing, skydiving and sailing.
Como
A cherished ticket and just one hour by train that is enough to leave Milan's noisy parties and enjoy the privacy among the shady gardens of old villas, mountain peaks and the smooth surface of Lake Como.
Being the third largest lake in Italy the Como is located 40 km to the north from Milan at the altitude of 199 m in the limestone and granite mountains up to 600 m high in the south and 2400 m in the north. There are numerous towns and villages along the coast — Como, Lierna, Lecco, Cernobbio, Lallo, Colico, Bellagio, Menaggio, Varenna where travelers come for a relaxing holiday.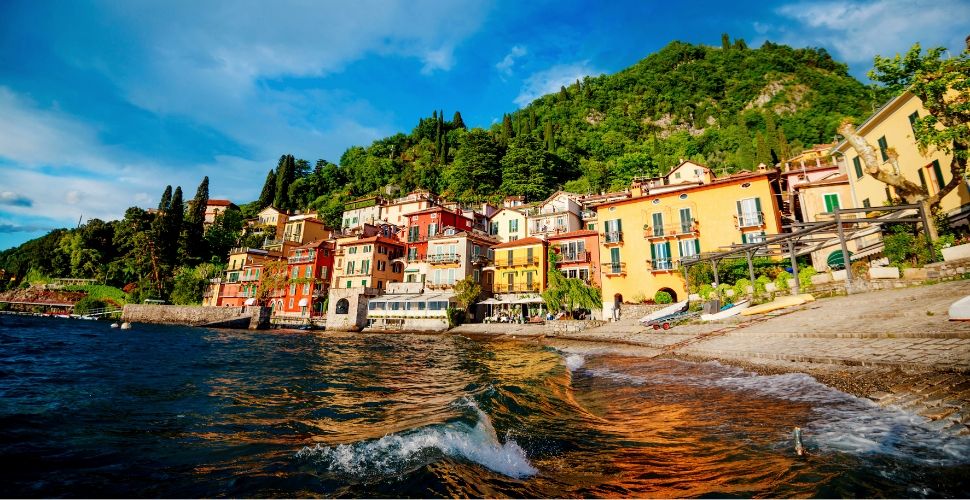 Lake Como has always attracted beauty lovers: clean waters, mountain peaks, white clouds. These incredibly beautiful views make travelers come here to spend the holidays in Italy with children and rent a cozy house. Luxurious homes on Lake Como invite to live here longer.
Any villa on Lake Como is often designed as a place where friends from all over the world will get together. Owners of cozy residences want to create a calm traditional family "nest" that is suitable for all modern needs of comfort and functionality. Houses on Lake Como usually have beautiful pools which are a link between the unique interior of the home and nature. The windows of the rooms offer an unusual view of the lake. And a candlelight dinner by the lake looks fantastic!
Como is considered as one of the most enjoyable living place in Italy. There are many beautiful historic villas. Even in antiquity, Virgil and Pliny the Younger had villas on Lake Como, Stendhal liked to come here. Villa on Lake Como has already become a tradition for celebrities. Today world stars like Madonna or George Clooney choose this coast for their residences.
Built in 1810 the magnificent park of Villa Mielec is worth spending a few hours here. It is surrounded by ponds going to moss-covered steps, fountains and bright greenery of the garden. It is an ideal place for solitude, relaxing walks and it's a great thoughtful spot. It is exactly here where creative people take their inspiration from the surrounding landscapes and the heritage of Italian art.
If you are lucky to visit the island of Comachina, which is the only one on Lake Como then go to the Lumaghitt festival. The bonfires of Saint John has been celebrated here by burning old pieces of furniture on the night of Saint John on 24 June. It should be included in the obligatory part of the summer entertainment program. It has already become a tradition among Italians to have polenta and snails which gave their italian name lumaghitt ("lumaca" - snail) to this holiday. Someone invented an original way to use empty mollusk shells by adding a small amount of oil and inserting a wick turning them into original candles. This day, the whole island is filled with emotions from bright fireworks and candle lights which seemed to be around the whole island.
You can feel like a film star as you can see the beauty of this lake in several movies like "Star Wars. Episode II: Attack of the Clones", " Ocean's Twelve", "Casino Royale", "Month by the Lake ".
Resia
The top list of the most beautiful lakes in Italy could not exist without an artificially created lake called the Resia that is in the South Tyrol. It has a rather interesting local legend: many years ago, during the construction of the dam, local government decided to flood several villages that went under water completely. Now, only the old bell tower of the 14th-century church is visible above the surface of the water. Locals tell that at night they hear a bell ringing although the bells were removed many years ago.
Lago-maggiore
If you are looking for complete serenity, it would not be an exaggeration to say that a vacation or even a short weekend will allow you to make the most authentic impression of Italy by the Lago Maggiore at the border between Switzerland and Italy. The climate is quite mild that is why there are many resorts along the coast: Arona, Meina, Lesa, Angera, Ranko, Ispra, Stresa. One of the famous attractions is the monastery of Santa Caterina del Sasso located in an inaccessible place in the rock that was used as a hermit dwelling in the past.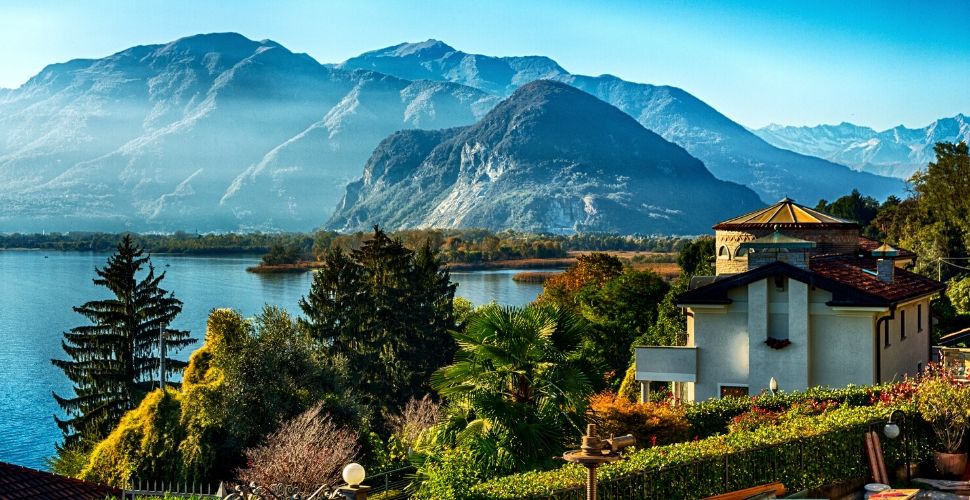 When to go
Choosing a rest in Italy, it is important to remember that there are seasons for any type of vacation in this country. The climate of Italy is different - from subtropical to temperate continental. In the northern part of Italy, the climate is subtropical, smoothly turning into temperate continental. In summer, the weather is perfect for relaxing on the beach, the weather is about 27-30 ° C in July in the South of Italy. It is better for swimming lovers to come in July-August, the water temperature is the most comfortable, about 28 ° C but in winter is not a swimming season as the water is cold enough about 15 ° C.
What to eat
During the holidays the main thing to do is to leave time for an Italian cup of aromatic coffee. Both vegetarians and meat-lovers will find dishes that suit their tastes and needs in cozy Italian restaurants. Everything is cooked perfectly - seafood, fish, pasta, lasagna, ravioli and of course pizza, which is usually baked in its own wood-burning oven. Book a table for dinner in advance to enjoy the view of the lake and the sunset with musical accompaniment.
What to do
A great idea is to rent a bike and explore the area immediately upon the arrival. Take a scenic route through fragrant gardens, be sure to climb to the observation point, almost every coastal town has one. Just believe practicing yoga in the villa, watching the rustle of water through panoramic windows is a real pleasure! There are a lot of shops, stores on central streets in modest cities that offer local goods and souvenirs and you will definitely want to take one with you.