Colourful beaches of Bali
Everyone who goes on vacation to Bali dreams of getting to a snow-white beach as soon as possible, of admiring the silky smooth surface of the ocean. However, in addition to the widely advertised Bali beaches, which look as if on a catalog cover, there are natural beaches of unusual colors, for example, with black sand. When visiting such places for the first time, people freeze with delight at the sight of contrasting black sand against the ocean.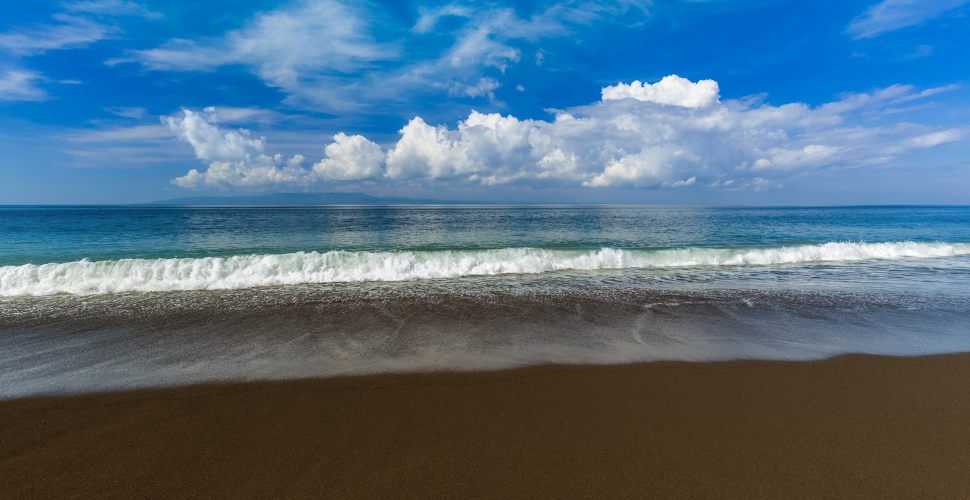 BLACK BEACHES OF BALI
The most unusual and attractive are the beaches with volcanic black sand. It is formed by volcanic eruptions, but it is completely safe for human health. The mica in the sand gives it a shimmery effect on some beaches and at sunrise and sunset, you can see the horizon sparkle, which is absolutely stunning. The locals endow black sand with magical and healing properties. The black beaches of Bali are located in the eastern and southeastern parts of the island.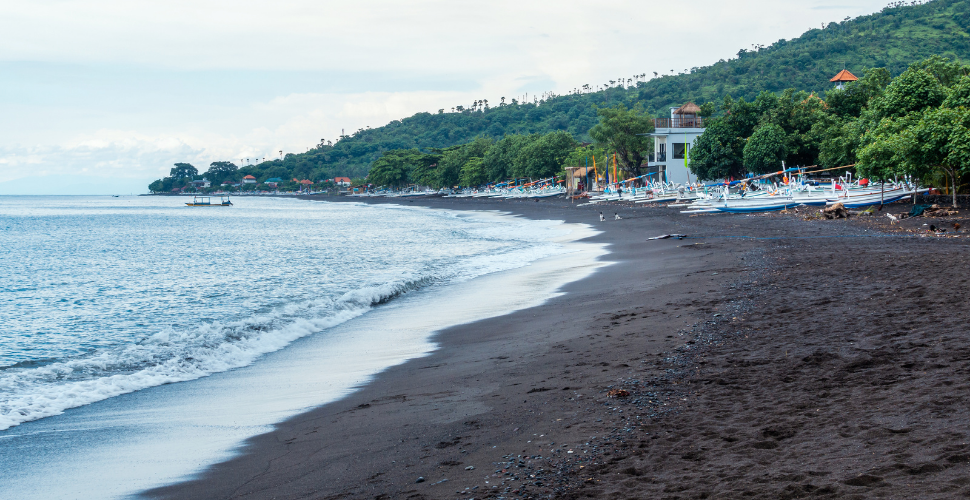 AMED BEACH
A secluded beach on the east coast of Bali. Once a sleepy fishing village, it has become a popular destination for diving, snorkeling, and surfing. There may be big waves in this beach. Remarkably, the beach is closest to an active volcano, which is why the color of the sand is the deepest of all beaches. Amed includes a group of bays and coves that stretch for 10 km. There are many luxury villas and resort hotels, as well as restaurants. Two popular black sand beaches in Amed are Jemeluk and Lipah.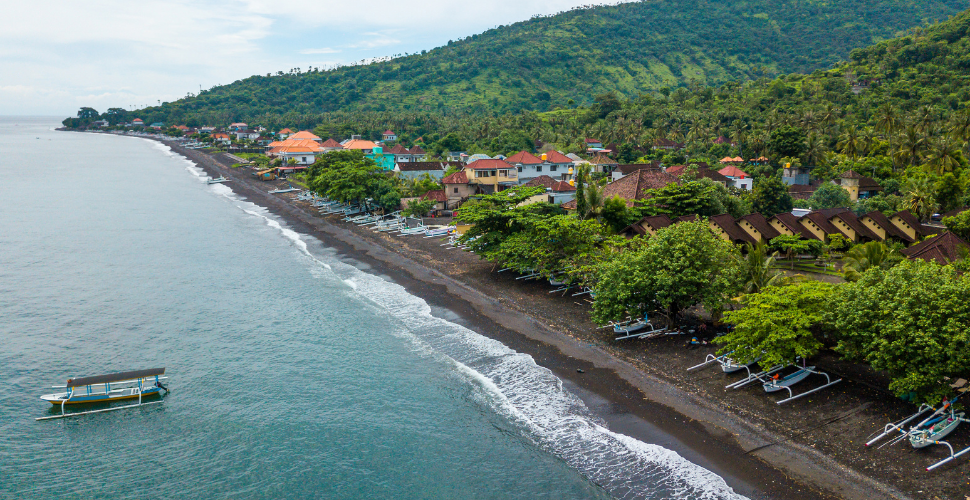 TULAMBEN BEACH
Tulamben is a black beach in Bali and it is perhaps one of the most popular. Tulamben is located north of Amed, about a 20 minutes drive up the coast. The world-famous wreck "USS Liberty" rests here just 30 meters off the shore and at a depth of 5 meters. Divers from all over the world come to this beach to see firsthand what secrets of history the ocean holds. There's also a diving school called "Discover Scuba Diving". Those who have never tried, but have long been dreaming of it, can dive with an instructor and explore the sunken ship. Tulamben might be quite crowded due to its popularity with divers, especially during the high season (from July to October).
KERAMAS BEACH
Keramas is a black beach in Bali where volcanic sand is mixed with pebbles. This beach is favored by surfers – the waves are up to 30 meters long and about 2 meters high. Keramas Beach is also a meditation site for Buddhist monks. Sitting on the sand and listening to the sound of the waves, you will feel peace and tranquility and understand why they have chosen this place for meditations.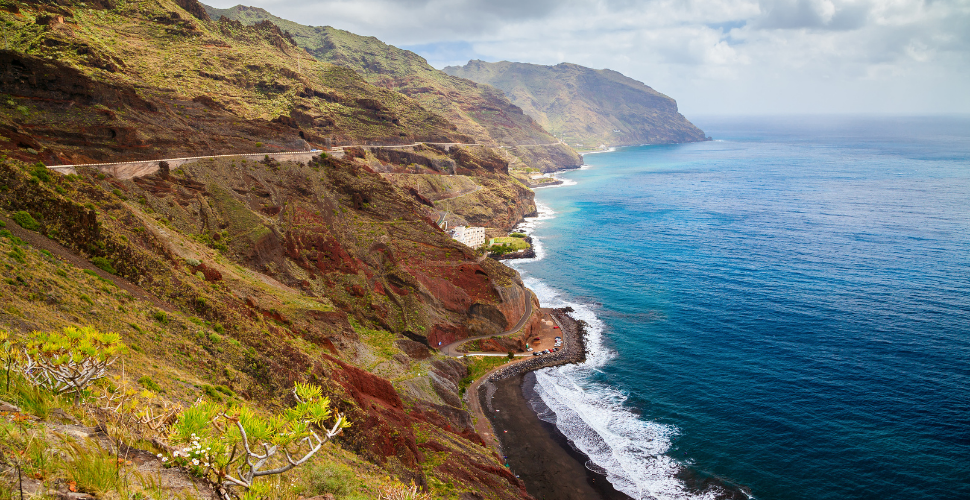 MASCETI BEACH
Masceti Beach is one of the most famous beaches in Bali. It is located 10-15 minutes walk from Keramas Beach. Masceti is a long stretch of powdery shimmering black sand. Many frequent travelers to the island consider it to be the best black beach of Bali. Intense black sand glistens in the sun, especially at dawn. That is why Masceti is a great place for a photoshoot, where the blue ocean and black sand create an exotic background. Also, the beach is popular with meditation and morning yoga lovers. However, there's just one thing. Swimming is prohibited at this beach.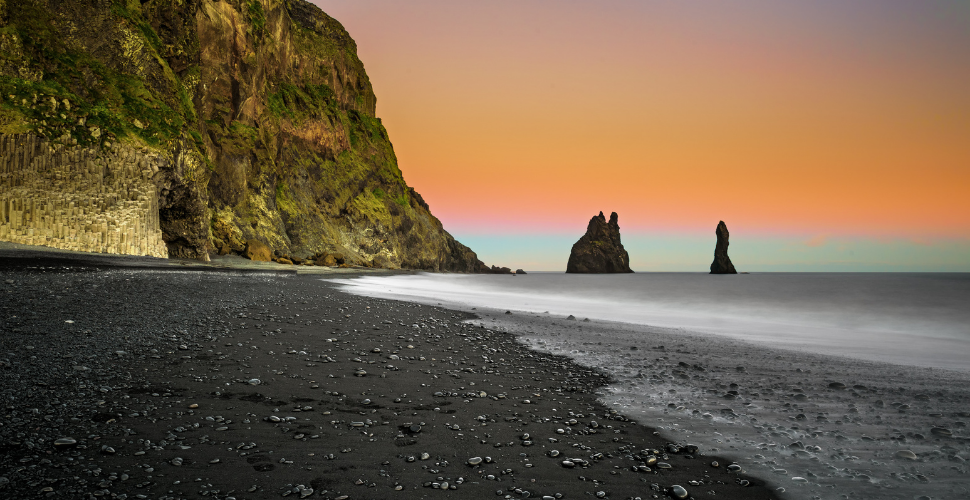 PURNAMA BEACH
It's a beach of rich black volcanic sand, which is 30 minutes away from Ubud. Purnama means "full moon" and it accurately describes the first impression of the beauty you see. Despite the unusual attractiveness, swimming at this beach is quite risky – there are too strong waves and underwater currents. But everyone should undoubtedly enjoy the view while walking.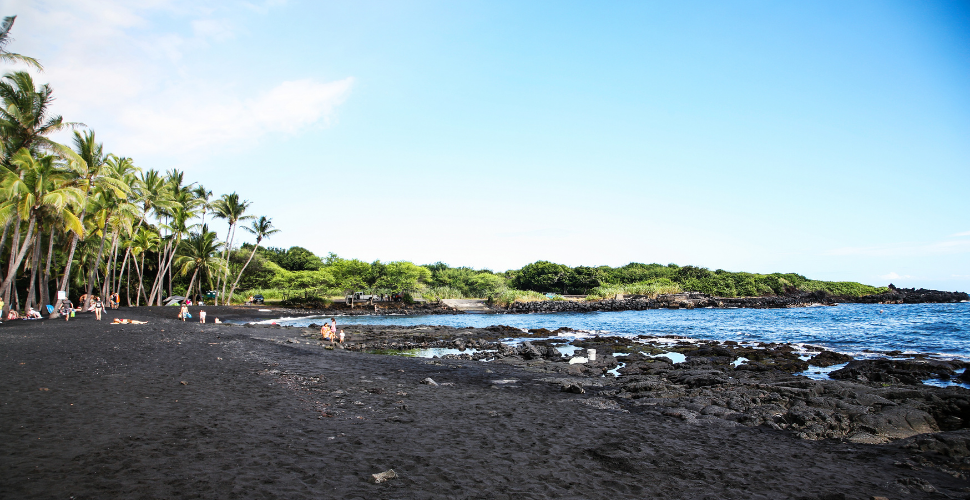 SABA BEACH
Here's one more gorgeous beach with rich volcanic sand in Bali. The peculiarity of the beach is the sand shining in the sun. Swimming at the beach is prohibited due to the strong current, but nevertheless, this beach is popular with professional surfers. 


LEBAH BEACH
Probably this is the most popular with tourists black beach in Bali, they especially come to Lebah for memorable photoshoots. Incredible black sand contrasts with the waves of indigo. The beach is perfect for romantic walks and mediation.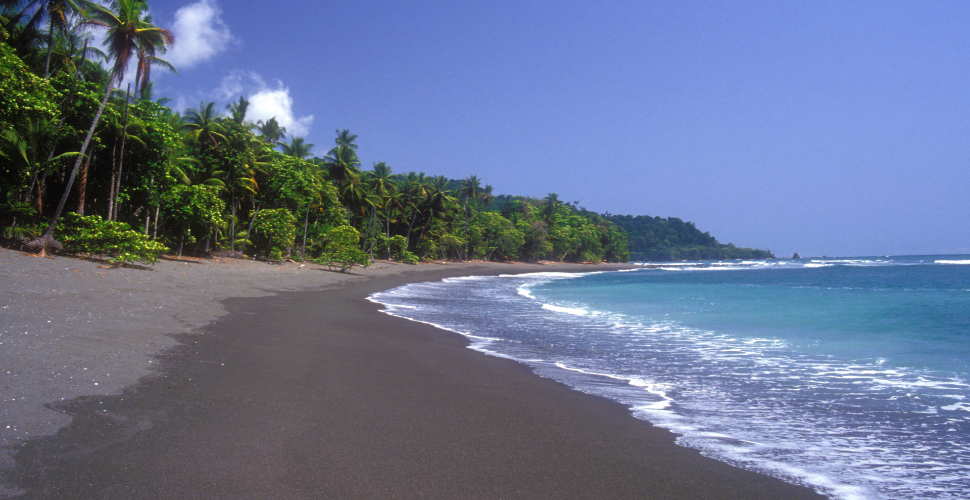 KUSAMBA BEACH
It's an incredible black Bali beach that is popular with locals. The sand has an unusual chocolate hue which stands out especially against the turquoise waves. It is located near Padang Bai.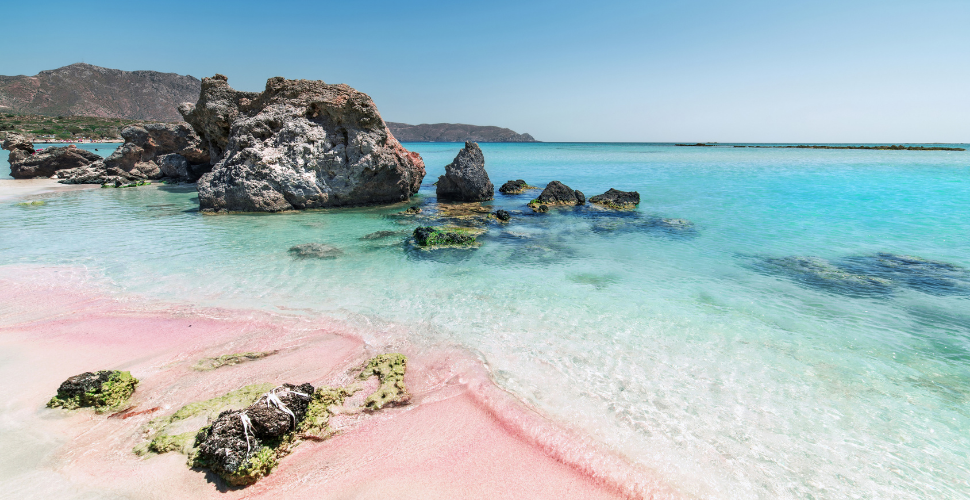 PINK BEACHES OF INDONESIA
Few people know about the incredible pink Indonesian beaches. One of the most impressive is the pink beach of Komodo National Park. The sand on the beach has a light pink hue. Contrasted with blue water, it creates an incredible landscape. The beach is perfect for snorkeling, scuba diving, or a simple relaxing getaway on the pink sand. The beach has this pink tinge due to microscopic organisms that produce a red pigment on coral reefs. Little specks of pink coral combined with white sand form a coastline of delicate pink shade.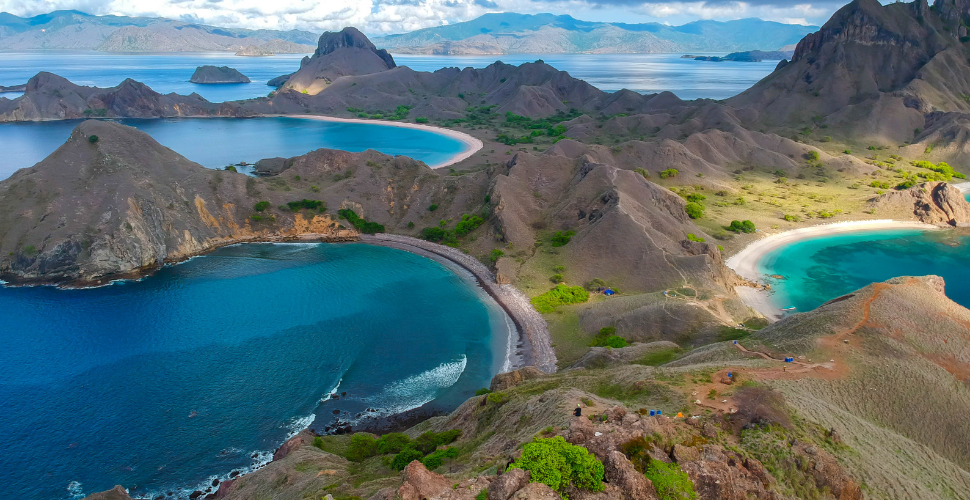 HOW TO GET THERE
The best route to Komodo National Park is definitely via Bali. Many travellers often search for "a pink Bali beach" on the Internet, mistakenly believing that the beach is located on this island.
Daily flights from Bali to Labuan Bajo are operated by local airlines on small planes carrying up to 50 passengers. Having arrived in Labuan Bajo, you can go to Komodo by speedboat from the port which is about 10 minutes away from the airport. It is possible to dock right on the pink beach.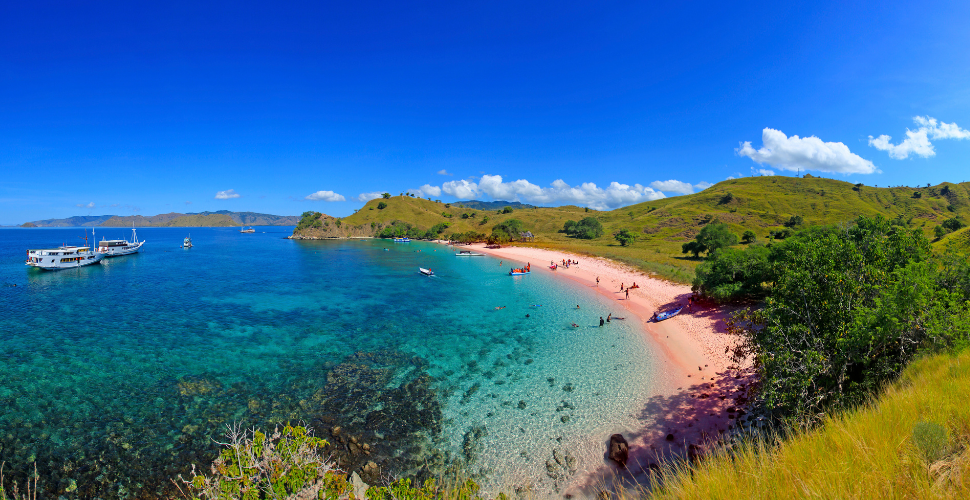 THINGS TO DO?
There are no bars, cafes or public restrooms on the beach. You may enjoy your day sunbathing, snorkeling, or diving. You can climb the hill which offers an incredible view of the beach and azure water. You had better take a sufficient amount of water and some snacks with you. The beach is designed for an amazingly relaxing time and, of course, for colorful photoshoots. The pink beach of Komodo Island is included in the list of the most beautiful beaches in the world.