Bearing gifts: what to bring from Bali island
To visit Bali and be sure to take a piece of this island with you as a memorable souvenir, what could be better? The standard souvenir set consisting of magnets, postcards and figurines is outdated. We offer travelers a fresh look at shopping in this paradise and give answers to the simple and exciting question "what to bring from Bali". 
Shopping in Bali is some special pleasure. Designer Sunday markets, flea markets, art markets, old shops, cozy shops, tourist supermarkets and souvenir centers create an atmosphere of a huge trading platform. People from all over the world regularly fly here to 
rent villa in Bali
 and spend the peaceful holiday in a fabulous place. And each of them has a desire to take home a piece of this magical island with him as a souvenir reverently choosing his own special gift. The delight level of such an incredible variety and opportunities for shopping is off the charts so take our advice and do not buy souvenirs at the first day of the trip when emotions are over the edge. 
Take a closer look and make your choice later, be sure you will see many items and the same goods more than once during your walks and excursions. So what to bring from Bali? A few useful tips can help you plan your cherished shopping in Bali.  
What to bring from Bali 
The island presents various souvenirs and gifts made of textiles and wood, decorated with traditional patterns, the quality of workmanship makes things really stylish and interesting. Do not buy gifts from merchants where you have a risk a chance to buy items of poor quality. You can bargain for your pleasure at flea and Sunday markets like Deus, Tamora Gallery, Beach Garden in Canggu. You can also get discounts and bonuses in shops or workshops on the street of artisans in Ubud next to the statue of Arjuna. Here you will find manufacturers of wooden dishes, bags, accessories and furniture made of bamboo, rattan and teak, masters to create products from bronze and the masterpieces of talented artists. The prices for all souvenirs are several times higher at the famous Art Market in Ubud so do not hesitate to bargain. You can also choose souvenirs at many specialized centres like Oleh-Oleh or Pasar Oleh Oleh. So Hawaii Bali and Krisna in Kuta attract many tourists where everyone will find souvenirs to their taste. Carved wooden Balinese art handicrafts are number one in the list of Indonesia's most desirable gifts like dishes, chess sets, lamps, frames, statuettes, tables, chairs. The choice is so great that it is exceptionally difficult to buy only one souvenir or home accessory. 
Textile  
A traditional and even classic gift from Bali is a dress in a tropical style or sarong. If you do not know what to bring from Bali but you want to buy a really useful and beautiful souvenir from Bali then take a look at the Indonesian fabrics. Textile workshops of batik and weaving factories, as well as small boutiques of local designers are a specific element in the excursion program of every fashionista.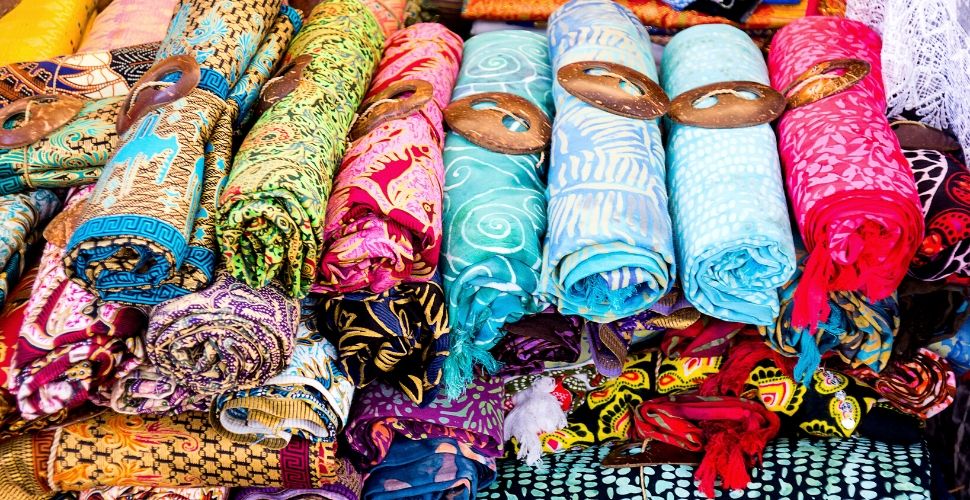 Coffee and spices
If the phrase "Keep memories but not things" is close to your life philosophy then bring a piece of local gastronomy - chocolate, cocoa, coconut oil, coffee, sets of spices and herbs from Bali island. They can be found at any local stores or supermarkets. As well as coffee and spices can be bought at coffee plantations where you can plan one of the excursions and see how cinnamon, vanilla, ginger grow. Learn more about botany and try various exotic types of tea and the taste the world's most expensive Luwak coffee. Bali Copi, Balinese finely ground coffee, is a pride of local people.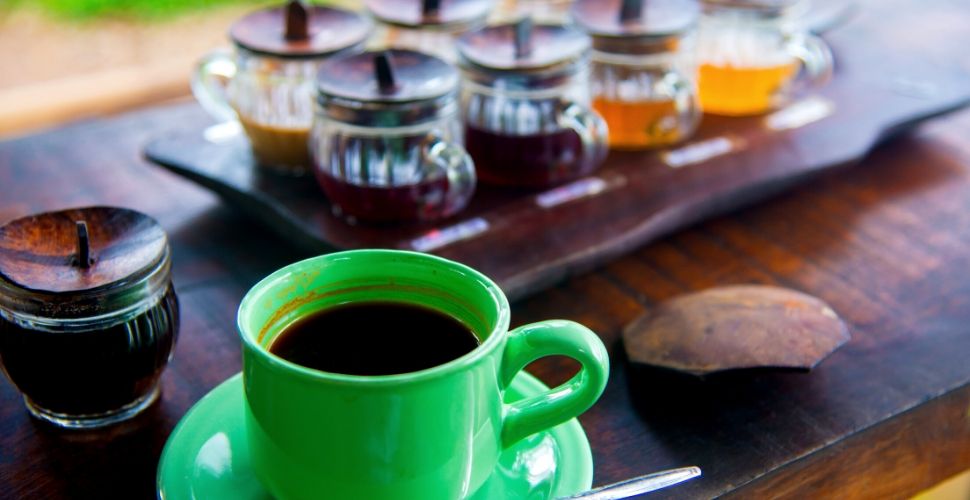 Chocolate  
It is hard to imagine an exotic, delicious gourmet trip to a country of fruit trees and a kitchen full of colors and aromas without a trip to a chocolate factory. There are several of them in Bali: the glass factory called Pod Chocolate Factory is in the middle of the jungle in Ubud and the oceanfront bamboo factory called Charlie Chocolate Factory in Karangasem. The success secret of Balinese chocolate, as well as the basis of the sweet industry of this tropical country is its own cocoa plantations in the province of Bali. High oceanic humidity, the proximity of waterfalls neighbouring to fruit trees give chocolate a special taste. 
Spirulina 
If a healthy way of life is not an empty phrase for you then it is better to buy a pack of spirulina, which is carefully grown on the Bali Spirulina farm in Canggu region. It is sold in different forms - dry and fresh – it's a truly lively complex of vitamins in one package. For transportation to your homeland it is better to buy spirulina in dry form. It is carefully dried which makes it crispy while preserving its benefits. It's a great alternative to the usual snacks. If it's difficult for you to get to the farm, the way takes a lot of time that you can spend on the sea and the beach then it is better to use the convenient delivery service that the company provides.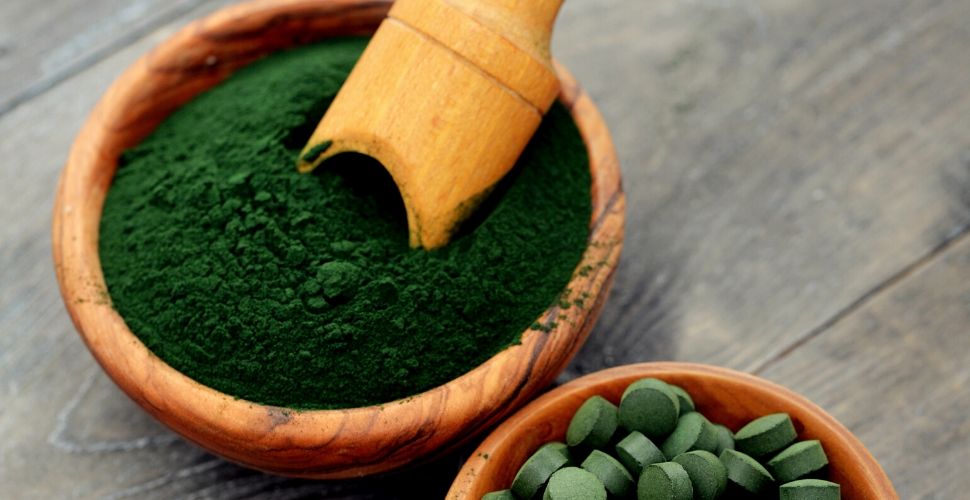 Cosmetics  
If you have already decided what to bring from Bali, however, it will always be interesting for you to get acquainted with the local Balinese beauty attractions. The basis of all products that local brands produce are natural oils, extracts of exotic plants, flowers and herbs. Nadis Herbal massage oils have aromatherapy effect for the soul, while their compositions have a healing effect on the skin. All active ingredients of Blue stone products are rich in vitamins, minerals, enzymes and proteins which deserve special praise. It is worth taking a look at the scrubs of the Balitaza beauty brand. Having several stores on the island Utama Spice is a 100% natural skin care company based in Ubud, Bali. They focus on applying traditional herbal knowledge to create products with minimal environmental impact that not only enhance the skin's natural beauty but also inspire with the power of nature. The brand philosophy is based on harmony with people, nature and the divine principle, it sounds inspiring.