Your ideal vacation planner
Renting a sea view villa abroad is no longer a luxury. People, who appreciate comfort and know how to do their budgeting properly, can make sure they get value for money and enjoy whatever kind of holiday they wish.
Everyone needs a break from their daily pursuits, a chance to spend some time with close ones and to be inspired by the change of scenery. It is a deserved reward for hard work and achievements. That is why forward planning is very important as well as finding someone you can trust to arrange your very precious holiday time.
I Love Villa has 10 years work experience in the tourist industry and 6 years in the foreign real estate market, earning us an immaculate reputation. We value our guests and we are extremely considerate to everyone's wishes and requirements. Be it a villa rental in Spain or a villa purchase in Bali, we take full responsibility for every transaction and ensure attention to detail.
Renting a villa for your holiday in Bali or in Thailand, Italy or Turkey, is first of all, a chance to live in the country of your choice as if you are at home. This is not a hotel with a lot of guests, noisy entertainment and limitations on things such as food and drinks. This is a private place to relax with no hustle and bustle, offering tranquility and comfort, as if it were your own home, but with the added bonus of a sea view or another beautiful landscape of your choice.
I Love Villa always pays attention to every guest's individuality. Having learned about your preferences in detail, our experts will help you to select a suitable villa, recommend an interesting route and will support you during your holiday.
We hope that having trusted us to arrange your holiday once, you will become one of our many regular guests!
Why us
Reliability
and security

I love villa is an officially registered company. All transactions are made via our official bank account. All destinations have I Love Villa representatives available 24/7.

No extra
hidden charges

All the prices on the www.ilovevilla.com website include government taxes and duties already, meaning the price you see is the price you pay.

Discounts and
special offers

We offer various discounts for longer term rentals and If your stay is longer than 1 week there will always be an offer at a special rate.

Easy
booking

Our aim is to make the booking process straightforward and hassle free. We accommodate your every wish so you can create your perfect holiday. Share your ideas with us and I Love Villa will endeavor to make them come true.

Guest's information
support 24/7

A personal representative of I Love Villa is always available for you to contact and can provide all the information you need regarding your chosen destination. Every guest is presented with a local SIM-card for easier contact.

A unique
villa directory

We approach our villa selection very thoroughly. All the villas in the I Love Villa collection are diligently inspected by one of our team and all the specific villa characteristics are detailed.
Villa for rent with promotions
Villa for rent by the sea
Guest's reviews
Emre 05.01.2016
We were very comfortable with the privacy of the villa
We stayed for a week in Karma Cantik, and overall we were extremely satisfied with the service we got from the ilovevilla.com and the villa we stayed. The complex with its top-notch spa, restaurant, and beach club provided us a very convenient stay in Bali. The location of the complex was optimal for us to reach anywhere in a reasonably short time. Most importantly, we were very comfortable with the privacy of the villa we stayed, as we haven't encountered.
Read more
Hide
ONG SUN SUN 26.06.2016
Friendly and competent service that was always readily available
Aiko Villa is very pleasantly surprised by the high quality, spaciousness and cleanliness of our villa and the prompt, courteous, friendly and competent service that was always readily available. Our time there was very enjoyable and relaxed. We unreservedly recommend this accommodation to all travellers.
Read more
Hide
View all
Blog
Despite the fact that the borders are still closed, you already have the opportunity to fly to Bali. You are permitted to enter with a business visa (B211). Earlier it could only be obtained at the embassy, but as of today this process has been simplified and now the visa is issued electronically.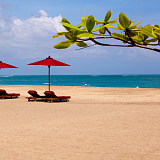 Everyone who goes on vacation to Bali dreams of getting to a snow-white beach as soon as possible, of admiring the silky smooth surface of the ocean.